2020 >
Secure and Non-Secure application co-existence using TrustZone security technology
Bob Waskeiwicz - Tim Nakonsut - STMicroelectronics- Watch Now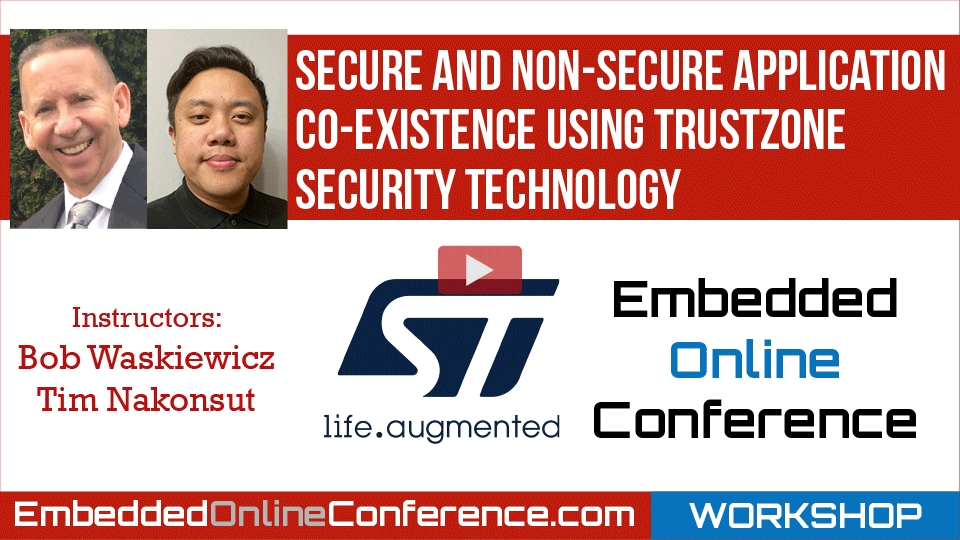 This 2-hour hands-on workshop will use the STMicroelectronics NUCLEO-L552ZE-Q board to configure and activate the Cortex-M33 TrustZone to secure an application. A Blinky application will be used to demonstrate how the STM32L5 TrustZone can secure the peripherals and memory. The workshop will be divided into approximately 20-minute segments alternating between lecture and hands-on. The STM32CubeMX configuration tool will be used to configure the STM32L5 device and to generate the Blinky LED application code for secure and non-secure applications. No source code compiler or IDE is required as the pre-complied binaries will be provided. The STM32cube Programmer tool and the embedded STLINK/V3 will be used to load the binaries into the STM32L5 device.
Workshop Agenda (may change prior to event)
1.Overview of the STM32L5 and Cortex M33 Device
Hands-On: Configure and download a non-secure Blinky application
2. Overview of the TrustZone
Hands-On: Configure and download a secure Blinky application
3. Review the secure and Non-Secure application co-existence using TrustZone
Hands-On: Add the non-secure Blinky application to the trusted application.
4. Review the trustZone Faults and Regression
Hands-On: Change the non-secure Blinky application to attempt access to the secure LED.
Hands-On: Turnoff and mass erase the STM32L5 TrustZone.
The materials for this workshop can be downloaded at:
https://www.dropbox.com/sh/9r810zc8pjxg83e/AADBTOrcSGIJX43auwkT_ziya?dl=0
Cesar_Santos
Score:
0
| 8 months ago | no reply
Bruce_Lueckenhoff
Score:
0
| 9 months ago | no reply
Bruce_Lueckenhoff
Score:
0
| 9 months ago |
2 replies
wbstvnsn
Score:
0
| 9 months ago |
1 reply
Bruce_Lueckenhoff
Score:
0
| 9 months ago | no reply
Stephane.Boucher
Score:
1
| 9 months ago | no reply